Profile

Free Account
Created on 2012-04-25 07:08:48 (#1607150), last updated 2012-04-25 (281 weeks ago)
0 comments received, 2 comments posted
1 Journal Entry, 2 Tags, 0 Memories, 15 Icons

About
| | |
| --- | --- |
| Name: | Keita Ito |
| Birthdate: | Dec 19 |
| | |
| | |

Mini Bio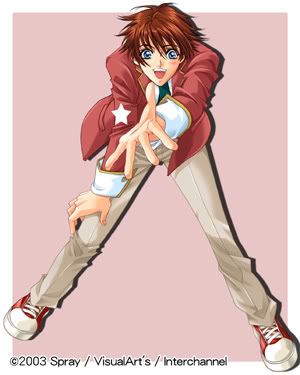 Name: Keita Ito
Canon: Gakuen Heaven
Height: 170CM (5'5")
Blood Type: O
Birthday: May 5th
Zodiac: Taurus

Character Information:
Keita is in no way anything special. He is a normal guy with normal intelligence and no special skills to speak of. He is just an average student, which is why he was so surprised to be accepted into Bell Liberty Academy (BL for short), a school for the best and brightest students from around the world. The only skill that Keita seems to possess is luck. He is extremely lucky and that luck gets him out of some pretty sticky situations and even helps him to win the MVP battle that allows him to stay in BL Academy. He is extremely friendly and has an infectious attitude that makes everyone immediately fall to his charms and want to be his friend. Even those that want terribly to hate him, end up finding themselves willing to accept and be friends with him. He also tends to cry quite often whenever he gets upset about something.
Keita doesn't have much faith in himself or his abilities though. He finds that he is completely out of place at BL Academy despite what everyone says and wonders if being there is truly something he should try to pursue. These doubts come to surface when the Board of Directors attempts to force Keita from the school. Unsure of himself, Keita considers leaving but his new friends convince him to try and stay.
Keita is a first year but is transferred into BL Academy during the middle of the year, which is an odd time for transfers and catches the attention of all the students. Especially since he is coming in with no special skills or particularly stunning academic achievements. His curiosity convinces him to at least pursue it and try to figure out why he was chosen to come to the school, though he severely doubts his ability to succeed at it.
Keita's past is not well known, even to him. He sees some of his childhood through flashbacks which show him hanging out with an older boy that you later find out is actually Kazuki, the school's chairman. Kazuki brought Keita to BL Academy so that he could fulfill a promise that they had made when they were both very young. That promise was that they would get to attend the same school together one day. When Kazuki inherited the academy from his grandfather, he made good on that promise and sent Keita the famed letter of admission to the school. He keeps that fact a secret from Keita however in order to protect him. Even though Keita is incredibly important to Kazuki, Keita has no idea the relationship that they had before. But Kazuki quickly grows to be the one person that Keita finds he can trust completely and rely on no matter what situation pops up.

People
[View Entries]

Communities
[View entries]

Feeds
[View Entries]

Subscriptions (0)

Linking
To link to this user, copy this code:
On Dreamwidth:
Elsewhere: